Thurston's Lobster Pound is part of a family business that dates back five generations!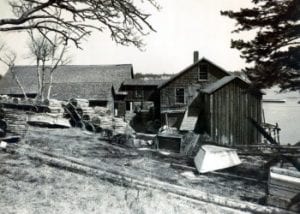 The wholesale side of the lobster business, FW Thurston Company, was started in 1946 when Fred Thurston purchased our property from another family member. Since then, the dock on Bass Harbor has sold fuel, bait, and supplies to local fishermen, while serving as a space to purchase the lobsters that they haul in.
In 1948, Fred made his daughter, Audrey (Thurston) Moore, and her husband, Harvey Moore, partners in the business. Fred Thurston then passed away in 1959, leaving his half of the business to Audrey's son, Lester Radcliffe.
When Harvey passed away in 1971, Lester bought the remaining fifty percent of the company from his mother, and became sole owner of the company for the next twenty years.
Lester's son, Michael Radcliffe, and his wife, Elizabeth, purchased FW Thurston Co in 1991 with plans to expand the business to include a small, seasonal restaurant with spectacular views. Two years, and a lot of hard work later, they added Thurston's Lobster Pound to the property.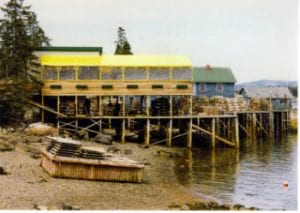 The restaurant started out as a tiny kitchen and just 12 tables under a bright yellow awning. With a simple but delicious menu, and a friendly, laid back atmosphere, Thurston's Lobster Pound quickly became a popular spot for the summer tourist crowd and locals alike.
Over the years, Thurston's has expanded in order to accommodate larger crowds and limit waiting time for customers. Increased parking, multiple kitchen renovations, along with the addition of a large dining area on the lower level have made it possible to keep up with steadily increasing business.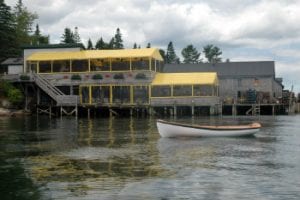 After 13 seasons in business, Michael and Elizabeth were ready for a break from the hustle and bustle of running the restaurant. While remaining in control of the much slower paced wholesale side of the business, they leased Thurston's Lobster Pound to a long time employee from 2006-2012.
With the help of their daughter, Christina (Radcliffe) Lapointe, and son in law, Derek, the Radcliffes are pleased to be returning to their original roles as owner/operators for the 21st season. With fresh eyes, and creative ideas from two active generations, there are many exciting changes and improvements on the horizon.
No matter how many years go by, how many seats or parking spots are added, or updates completed, all of us at Thurston's Lobster Pound are committed to providing what we always have for our customers. The freshest, local lobsters served with a smile, a salty breeze, and a view of the boats that brought them in, is what Thurston's has always been about. Nothing will ever change that.